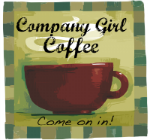 Hi Company Girls!
I know this was a short week with Memorial Day, but wow it flew by! I can't believe it's Friday already again (although I'm grateful).
Does anyone have big plans for the weekend?
Dave's frisbee team that he travels with has tryouts for the next two weekends. The tryouts usually last most of the day. So I think I'll be spending some quality time at the pool with a book or my Bible.
Yesterday we had our preconstruction meeting with the builder of our home. The guy's name was Brad, and he was very nice. I'm so thankful that all the people involved in the building of our house are kind and easy to talk to. It makes the process so much easier!! Brad told us that he plans to have our house complete and ready to move into by the end of August, regardless of what may happen with the weather. (That was very reassuring to hear!) So 3 months, and we're in!!
Dave and I stopped by the house afterwards to see if there were any updates. I'm not quite sure what they did other than pile a bunch of gravel at the front of the lot and send an earthquake through the sidewalk. But I will assume they know what they're doing. :)
Other events of the week would be that Monday was our friend Emily's 28th birthday, so I went out to eat with her and a few of our girlfriends at Biaggi's. I got chicken marsala with mashed potatoes and asparagus. It was pretty yummy. Then Tuesday or Wednesday Maggie appeared to eat or attempt to eat a slug, which was one of the grossest things I've had to deal with in regards to my dogs. She had slug gook stuck all over her mouth and in her teeth. It was like rubber cement. As I sat there using a kleenex trying to get all the slime off, Dave stood there saying, "Wow, Maggie, your mom really loves you." Clearly. If scraping slug goo off her snout and out of her teeth doesn't show love, I don't know what does.
So how about the weekly Bible trivia?
Last week's:
Which of the following were the Israelites not allowed to eat?
a) storks
b) chameleons
c) bats
d) all of the above
Answer:
d.
They weren't allowed to eat any of them, along with a whole slew of other animals. Check it all out in
Leviticus 11
.
And now for some new trivia:
True or False:

People weren't given permission to eat meat until after the flood.
God bless!
Kara