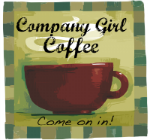 'Morning Company Girls. :)
I hope everyone has had a good week.
First off, is everyone aware that Rachel Anne is having a photo contest? Send in your pictures that represent the beauty of friendship to you. Check it out here:
http://companygirl.com/
. (And yes, I realized I haven't sent any in yet, Rachel Anne. I need to get on that. :) )
As for my life...
I went to a
baby shower
for my friend Casey last Sunday, which was a good time. :) In regards to work, things have been stressful (as usual). Just way too much to do. I even had to close the door to my office one day to take a breather, because I was afraid if one more person asked something of me I might burst into tears. I've been somewhat grateful that we don't have internet in our apartment. It's prevented me from stressing over work at home, because I couldn't work on anything if I wanted to.
We have our preconstruction meeting for our house next Thursday, which means the foundation should be poured by then and the walls should go up immediately after. So exciting. :) I just can't wait to see it being built. It's been two months now since we signed the contract. The wait has been long enough. (And twice as long as they said it would be.) You can check out all the latest house updates here:
Our New House
.
So how about some trivia?
Last week's:
True or False:

In the book of Esther, God is mentioned zero times.


Answer:

TRUE (Isn't that so weird??)
And for this week:
Which of the following were the Israelites not allowed to eat?
a) storks
b) chameleons
c) bats
d) all of the above
And for any of my readers who would like to find out about Company Girls or join, just click on the Company Girls button at the top of this post. You can go see all the wonderful things Rachel Anne is doing over at Home Sanctuary. :)
God bless!
Kara