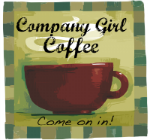 Good morning everyone!
Hope everyone has been doing well. I missed out on Company Girls again last week...between being sick, moving, and being overwhelmed at work, I had little time for blogging.
Sadly, I haven't been doing any of the small things. :( Maybe June will be my month. It's just hard to do extra things when I still have boxes I need to unpack!
I guess the big events of this week would be that yesterday was my 26th birthday and that our house finally got approved to start being built. (I'm pretty excited about that. :) ) A few pictures from my birthday dinner at Cheesecake Factory are below: