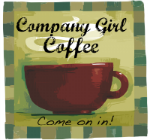 Good morning Company Girls!!
I'm so glad to be back for the Friday morning coffee. The last two Fridays I've been out of town and away from a computer, first flying to Indiana to see my family and friends, then flying to Ohio to see my college friends.
My current life events are as follows:
1) Dave and I are moving out of our townhome and into an apartment tonight and tomorrow. I'm slightly stressed about it, but so thankful that we have several people coming over tonight to help with moving everything. And thanks so much to Debbie and Brian for letting us sublease from them! :) (They are moving into a new house right now...so exciting.)
2) Work is crazy overwhelmingly busy. If you think about it, pray for my peace of mind. Between work, moving, and planning things for the new house, my head is spinning.
3) Dave found a tick on Rogan last night. It was soooooo disgusting. Thank goodness for the internet...I looked up the best and easiest way to remove it and it was taken care of in no time. (You can see a pic of the process below. :) ) Dave killed it with a lighter at flushed it down the toilet, so don't worry, it won't be coming to get you or your pet. I then immediately put flea/tick medicine on both Rogan and Maggie. I don't want my pups getting sick.
4) My weekend travels have finally come to a hiatus. I still need to put up pics from last weekend in Ohio, but you can see pics from my Indiana visit
here
.
5) I started a mini garden in my office. You can see pics
here
. There are already some sprouts growing (so cute!), which I will share on the blog soon.
Alright, that's all I can remember to mention in the life of Kara right now. Mother's Day is coming up...has anyone figured out what you're getting your mom?
And finally...I know you've been missing the trivia. :)
From 3 weeks ago:
What is the shortest chapter in the Bible?



Answer:

Psalm 117. It has two verses. (Go check it out!)
And this week's trivia:
How many books of the Bible did the Apostle Paul write?
I hope everyone has a blessed weekend!!
(If you're not a Company Girl and curious as to what I'm talking about, check out Rachel Anne's Home Sanctuary at www.homesanctuary.com. Every Friday we link up to catch up on each other's lives and leave each other some encouragement. You should join, too!)