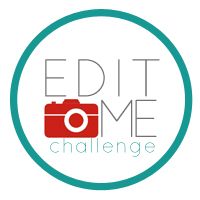 It's my third week in a row for participating in the Edit Me Challenge! Go me! :)
Below is the original photo this week:
And below is my edit:
First I pulled the image into ACR (Camera Raw). I added fill light to brighten the shadows, then lowered the overall exposure of the image. I also used the noise reduction in ACR to remove any noise.
I then took the image into Photoshop and applied a texture (Brownie Mix from Chasing Dreams). I wasn't sure exactly where I was going with the texture, but ended up really liking the effect it had on the image. I tweaked the opacity, masking, and saturation of the texture to my liking using Florabella's Texture Action. I then applied a levels adjustment to give the image a bit more pop, pulling the blacks arrow toward the right and pushing the grays arrow a bit toward the left and putting it on overlay mode at 20% opacity.
After that I resized for web, sharpened, applied my watermark, and saved for web & devices.
Be sure to check out the other edits at
www.editmechallenge.blogspot.com
!