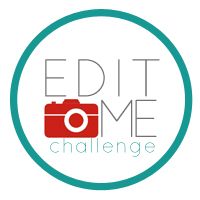 Well I'm on a two-week streak now for participating in the Edit Me Challenge!! :) Hopefully I can keep it up. I'm starting to get back into an editing groove. :)
Below you can see this week's original photo:
And here is my edit:
I had a lot of fun with this week's picture. From the start I envisioned adding a warmer, pink feel to the picture, so that's what I aimed for through use of textures and color. I applied two textures from the Pretty Presets Retro Revival Collection: Pink Champagne and Worn Linen. After fidgeting with the mode, opacity, and masking of each texture to my liking, I then added a solid color layer of a warm pink color in overlay mode. (Sorry, I forget the opacity level I used.)
After that I resized for web, just barely sharpened, added my watermark, and saved for web & devices.
Head over and check out the other participants' entries at
www.editmechallenge.blogspot.com
!