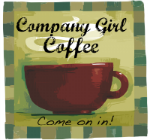 Hello Company Girls!
Well it has been a busy week. As I mentioned in a previous post, we sold our house last Friday after only 3 days on the market. Clearly God's hand was guiding the whole process because such a thing is impossible these days. Dave and I are so grateful to Him. This Wednesday the house was inspected and only a few issues were found, so it looks like everything should go through. We'll be closing on April 30th, and then we have 3 extra days to move. We'll be subleasing from our friends Debbie and Brian, who are moving into their new house around the same time but will still have an apartment lease. It looks like everything will work out. Then our new house should be done in August. I can't wait! Check out the pics in my previous post,
House Pics #1
.
Other events of the week would include a not-fun dermatology appointment on Monday that you can read about here:
Dermatologist
. Then last night we had a birthday get-together for Dave's brother, Dan. Pictures will be posted soon, which I took for their mom because I knew she'd want to see them. :)
This weekend we are traveling to Charlotte to visit Dave's family for Easter. Tomorrow morning we're stopping at the new Ikea store in Charlotte on the way, which I'm pretty psyched about. :) It should be a good weekend. We haven't been to Charlotte since Christmastime so we're due for a visit.
So last week's trivia was the following:
True or False: When Ninevah repented, its residents put sackcloth on all their animals.
Answer:
TRUE
See Jonah 3:8.
This week's trivia:
What is the shortest chapter in the Bible?
What are everyone else's plans for Easter? Anything exciting? Does anyone have today off of work? I sure don't. Also, let's not forget the true meaning of this weekend. Take a couple moments to pause and thank God for the sacrifice of Jesus. (Does anyone else think that Easter should be the biggest holiday of the year and not Christmas?)
God bless!
Kara