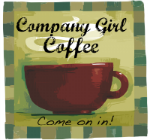 Morning Company Girls!
Hope everyone's had a splendid week!! Ours has been crazy. We put our house on the market on Wednesday (after the longest and most tiring weekend of my life trying to prep the house), had a showing Wednesday evening, and got an offer today. We're planning on countering it, so we'll see what happens. We also had two appointments in regard to our new house this week...one with the mortgage company and the other to begin selecting our design options. Throw in a pressing deadline at work, a planned dinner with some couples from our Sunday school class, and Dave studying for his professional engineering exam, and you've got one busy week. I can definitely see God's hand guiding us through all of it, though, so I praise Him for that. :)
Alright, last week's trivia:
In what horrible way did Samson set fire to a bunch of Philistine grain fields?

Answer: He tied the tails of 300 foxes together, set them on fire, and let them loose in the fields. (Judges 14:4-5)
Several of you got that correct...I was impressed!
And for this weeks' trivia:
True or False: When Ninevah repented, its residents put sackcloth on all their animals.
Hope everyone has a great weekend!