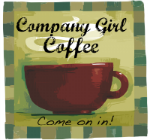 H
ello to my Company girls.
Today is a bit overwhelming at work. I am the author for a statistical analysis plan that is supposed to go to the FDA next week, and just this morning I was given about 50 things to change in it. (Ok, ok, 50 is a bit of an exaggeration, but it's still a lot.) Many of these last-minute changes are the result of my boss doing research on a similar trial that went to FDA in the past, so they are of course mega-important. And mega-hard to wrap my brain around.
So I'm spending quite a bit of time looking up statistical information on the internet and in SAS (that's the coding software we use) documentation. It feels a bit...or a lot...like grad school. I have to keep taking mini breaks to avoid becoming overly frustrated.
On another note, here is the answer to last week's trivia:
TRUE or FALSE: Children have angels in heaven who always have access to God.
Answer:
TRUE
Crazy, huh? I was like, no way. But look at Matthew 18:10: "
See that you do not look down on one of these little ones. For I tell you that their angels in heaven always see the face of my Father in heaven.
"
Now for this week's trivia:
What natural disaster occurred when an angel rolled back the stone sealing Jesus' tomb?
I
d
id pretty well on points this week. I went through all the organizing on paper. The main thing I realized is that I should be more diligent about keeping up with my laundry so it doesn't become overwhelming. I liked Rachel Anne's idea of doing some in the morning and evening. I even thought about what a great idea it was this morning as I rushed by my empty washing machine and cold clothes dryer on my way out the door. Ah...maybe next week I'll actually follow through?
Hope everyone's had a splendid week!
God bless,
Kara