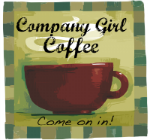 Welcome to all my Company Girls.
Let's see, what's going on in my life...
This Sunday I am a volunteer model for a fashion show in a town about 30 minutes from Raleigh. The money raised will go toward providing scholarships for kids in the Arts Education Program at the local high school there. Pretty neat, huh? Click the flyer below to check it out and even provide your support for the kids with a donation if you feel so inclined.
I'm a little nervous about walking on the stage and through the crowd and doing the little poses that have been requested...especially with Dave sitting in the audience. But we'll see how it goes. My friends Emily and Kristin were so wonderful as to volunteer with me (thank you girls!!) so at least I have some moral support. :) I'm sure I will have some pictures to share next week.
If you read my post yesterday, you'll know that I suddenly decided I was tired of red in my living room. So this morning I changed it. Most of the red was on our bookshelf, so I ended up switching it to tan stuff instead. (Tan was about the only other color of decorations that I had laying around the house.) I just needed a red break. Below is the after-picture. (I forgot to take a before-picture...sorry. :) )
Along those lines...I made these changes this morning when I should have been having my quiet time with God. For some reason, I just really really didn't want to sit down at the table and read this morning. I couldn't do it. And then, afterwards I felt horrible for skipping it. I feel like it's put a damper on my whole day. So my question for you is...if you have quiet time with God, when do you do it, how often, and what do you do? Read your Bible? Devotions? Bible study book? Pray? Every day? A couple times a week? In the morning? In the evening? Before bed? Let me know. I'm considering switching mine up and I'd like to hear what works for others.
Alright I think that's it for today. Oh, the answer to the trivia question last week was earthquake. Good job to all of you who knew it. :) I will return next week with another trivia question...for this week I am out of time.
God bless!