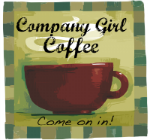 Good morning Company Girls!
This morning I am drinking cinnamon hazelnut coffee. It is quite yummy. I also had oatmeal with Splenda brown sugar for breakfast, with a couple Caramel deLite Girl Scout cookies on the side. So delicious. And so bad for me.
I didn't do wonderfully on my Small Things points this week. I had a lot of things scheduled in the evenings after work, which dwindled my free time at home down to zilch. Hopefully next week I will have a bit more time and can earn a few more points.
Yesterday was Dave's 28th birthday. :) I got him a couple
116 Clique
CDs (a Christian rap group) that were highly recommended by his friend, Jack. I listened to one on the way to work today and I liked it quite a bit. (Yeah, Dave has one of those cool wives who likes rap music....hehe. ;) )
Dave also somewhat randomly bought a tent back around Christmastime that he said could count toward his birthday. Since I have yet to go anywhere with him where we've needed a tent, I acquiesced.
For dinner we went to
Lilly's Pizza
, one of his favorite pizza places, where they serve GINORMOUS strombolis for somewhere around 9 dollars. I ate
maybe
a third of mine. And they even fill them with really good ingredients, such as chicken, pine nuts, and sun-dried tomatoes. My only complaint was that I did
not
like the atmosphere. It pretty much felt like a downtown dirty bar. It was hard to breathe in there, despite the fact that there wasn't any smoking. It definitely wasn't a place I would have chosen.
But
, it was my honey's birthday, so I went. And the food was definitely awesome. I think next time I may vote for takeout.
Tonight a bunch of Dave's good friends are meeting us for sushi at
Waraji
. I haven't trained myself to eat sushi yet, so I will probably be eating some type of Asian stirfry. Then everyone's heading back to our place for half-cooked brownies, which Dave requested instead of a birthday cake (and I completely understand why).
Ok, so now for the trivia answer to last week's
Company Girls post
:


Q: What scientific fact did Isaiah mention in the Bible centuries before it was proven true by scientists?
A:
That the world was round.
He sits enthroned above the circle of the earth,

and its people are like grasshoppers.

He stretches out the heavens like a canopy,

and spreads them out like a tent to live in.

-Isaiah 40:22
And now for this week's trivia:
True or False: Animals have to answer to God, too.
I hope everyone has a splendid weekend!
God bless,
Kara