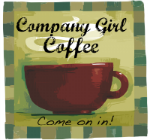 Morning to all my Company Girls. Hope this post finds you in good spirits. This morning I am drinking vanilla decaf coffee. Delish. (Is that a real word? If it is, did I spell it right?) I grind my own beans in the morning. Does anyone else?
I've decided to try a new time for my quiet time with God. I was trying to do it in the mornings before work but often found myself getting out of bed way too late or getting distracted once downstairs in the kitchen. Next thing I'd know, it'd be past time for me to get in the shower, the downtairs would be all spruced up, I'd have checked all my email 5 times, and my quiet time with God would still be on the waiting list. So...now I'm trying to go into work at least 30 minutes earlier every day and then I'm doing my quiet time at my work desk before I head home. On the days when my schedule has allowed, this has worked great. I just need to be more diligent about making my schedule work. I'll let you know how it goes. :)
Is anyone doing anything exciting for Valentine's Day tomorrow? Dave and I are trying to be budget-friendly, so we've decided we're going to go eat at Whole Foods from the a la carte buffet and then I'm going to pick out a small (under $10) plant for a little gift.
Note: The picture on the left is not necessarily the plant I'm
planning to get. Nor is the picture on the right a true
representation of our Whole Foods here in Raleigh
(although it IS a picture from a Whole Foods).
Both pictures are simply for visual effect. :)
As silly as it may sound, I'm pretty excited. I love Whole Foods. I love eating there, I love just walking around the store, I love shopping for different and organic foods, and I LOVE picking out new plants. (And now the question anyone who's seen our place wants to ask: Where on earth am I going to find window space for another plant??? Oh don't you worry. I'll find a way.)
OK so here's the trivia for today:
What scientific fact did Isaiah mention in the Bible centuries before it was proven true by scientists?
Hope everyone has a great weekend!
God bless,
Kara