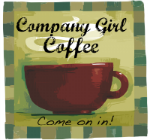 Hey Company Girls!
Well, today I am sadly swamped beyond belief at work. Stress level is sky high. So it's going to be a short post today.
Dave and I are in the process of possibly buying a house. It's very time consuming!! We were informed by our realtor that we essentially need to pack up half of the stuff in our home in order to show it to sell it. I was not overly thrilled to hear this. But I got to work the other night, putting away most of the decorations in our living room. Supposedly, you need enough items in your house for buyers to feel comfortable, become emotionally attached, and understand the function of a room...but you want to leave enough space for them to imagine their own belongings next to your items. So Dave and I are going to be living in an austere home for a while. :( You do what you need to do though!
While I packed up the living room the other night, Dave made us a fancy salmon meal. I was impressed. :)
Our poor disheveled living room
(packing stuff up gets messy!)
While on the topic of new house...I need everyone to vote for the front of our new home!! We are probably going to build, so we get to choose what it will look like. So please go to my post from a couple days ago -
House poll
- and vote!!
Now for the trivia:
Last week's trivia:
What animal is referenced in the Bible more times
than any other, making an appearance in the text
over 400 times?
Answer:
Sheep!
Speaking of sheep, here is this week's trivia:
What people in the Old Testament detested shepherds?
Alright well that's about all I have time for. I'm flying to Seattle for the weekend to visit my friend Jackie t., so pray I have a safe trip!! I will do my best to catch up on all my Company Girls' lives over the weekend. :) Also pray for Dave, as he'll be trying to handle the new house situation on his own without me here. (Mortgage rates are at an all-time low, and they dropped even further yesterday. Weekend rates are even better. So the pressure is on!)
God bless!
Kara