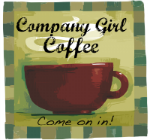 Morning Company Girls!
Hope everyone has had a good week. Mine was very busy and went very quickly. You can check out my recent life events in my post from a few days ago,
A few life events
.
Today I read a short devotion and I want to share a part of it.
"If you want to be a loving person, don't start by t
aking on the needs of the world. Because we can't do everything, we often don't do anything. Start with caring about one person and build from there. You can't do everything, but you can do something."
Showing Christ's love does not require founding a missions organization or raising $100,000 for a local charity. You can show Christ's love in simple ways. Carry an item for an overloaded person...open doors, say please and thank you,
smile
. There are so many simple things you can do to brighten someone's day and help them feel loved. So pick one act of love and do it. It will take two seconds. And your Father in heaven will be beaming when He sees His child showing His love and compassion to others.
"You have heard that it was said, 'Love your neighbor and hate your enemy.' But I tell you: Love your enemies and pray for those who persecute you, that you may be sons of your Father in heaven. He causes his sun to rise on the evil an
d the good, and sends rain on the righteous and the unrighteous. If you love those who love you, what reward will you get? Are not even the tax collectors doing that?" - Matthew 5:43-46
Alright on to the trivia...
From last week:
What people in the Old Testament detested shepherds?
Answer:

The Egyptians

.
"
...all shepherds are detestable to the Egyptians." - Genesis 46:34
This week's trivia:
In what horrible way did Samson set fire to a bunch of Philistine grain fields?
Have a great weekend!