It's time for a 1% Change again!
Last week
I was a little late, so I aimed to be on time this week.
My 1% Change for this week goes along with my first 1% Change, which was to resist one dessert per day (because I eat way too many). This new one is actually a pretty random 1% Change, and probably sounds kind of ridiculous, but...I am going to try to replace some of my daily desserts with freezer pops. Yes, that's right. Freezer pops are my 1% Change. Why? Because they're only 20 calories per pop, and they totally satisfy my sugar craving. And they take a while to eat, so I'm not just shoveling food in.
If you'd like to join in with 1% Changes, check out Jessi over at
Naptime Diaries
...we're all working together, step by step, to move our lives in healthier directions. :) (Jessi, I'm sure you're going to totally squirm over this 1% Change since it's encouraging the consumption of processed sugar water, but just go along with me. :) Trust me...it's a step in the right direction! ;) )
Speaking of Jessi at Naptime Diaries, I discovered her blog and
Mandy's blog
through the online organization
Faith Blogs
, whose purpose is to connect blog readers and blog writers of faith. Which leads to
my announcement
...
and no, I am not pregnant.
(Isn't that what everyone always assumes when you say you have an announcement to make?)
***********************
My announcement
is that last week I was selected to be added to the Faith Blogs website!!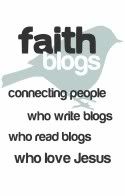 I am absolutely honored and so excited. You can check out my introduction
here
. I've used
Faith Blogs
to discover a lot of my regular blog reads, and I love the sense of community and support you can find through a group of fellow Christian bloggers. So definitely head on over to Faith Blogs and start digging into all the other wonderful blogs they support.
***********************
And now, for the
giveaway
, back to discussion of Jessi at Naptime Diaries. (Jessi, this entire post is appearing to be centered around you, haha.)
Jessi has opened an
Etsy shop
where she is selling some awesome Scripture graphics. To help get her business going, she has offered to let me do a giveaway of one of her graphics. They are soooo neat. Check them out here:
http://www.etsy.com/shop/naptimediaries
. Whoever wins this giveaway gets to pick a graphic of his or her choice.
How to enter:
(Required)
Visit Jessi's Etsy shop at
http://www.etsy.com/shop/naptimediaries
and then leave a comment here telling me which graphic you would choose if you won.
Additional entries:
*Post about this giveaway on Facebook and leave an additional comment telling me you did so.
*Put Just1Step on your blogroll or list of favorite blogs on your personal blog and then leave an additional comment telling me you did so.
*Write a blog post on your blog about this giveaway and leave an additional comment telling me you did so (worth two entries).
So each person has up to 5 entries!
The giveaway will run until Sunday night, April 24th, at 11:59pm.
Enter away!