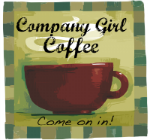 Good morning Company Girls. :)
(Wonder who the Company Girls are? Check them out here.)
I've been out of the loop for a couple weeks. How is everyone doing?
Dave and I locked in a rate on our new home yesterday. I'm glad the worrying and negotiating is over. Of course we have not reached the end of our troubles yet...we're finding things in the house that aren't as we expected, and we're not overly happy with the builders right now due to the closing date (currently estimated to be middle of September). But that's a long story for another day. You can see updates on the house
here
.
This week was a sad one. Our next door neighbor, a guy in his thirties, suddenly died in his apartment. Dave came home Tuesday to find a ton of cop cars and a CSI van in front of our apartment building. The whole situation is a bit crazy. You can read about it
here
. Please pray for his wife, who I'm sure is hurting greatly.
On a happier note, I need to do my giveaway!! I've been planning it for quite some time, but I wanted to save it for a Company Girls' day so all of you could participate.
Here's the deal...
I've been given the opportunity to do a free giveaway of the door mat below:
Isn't it cute? I really love the design. It's from CSN Rugs...if you're looking for an
area rug
, they're a good online store to check out. They have quite a selection.
So here are the rules: Just leave a comment on this post sometime within the next 7 days. I'll give everyone until midnight of next Thursday. Friday I will randomly select a winner from the people who have left a comment. For anyone reading this from the automatic upload on Facebook, please go to my actual blog at
www.thekssblog.blogspot.com
to enter. Only one entry per person, please.
So isn't that great? I actually wish I could participate in the giveaway, but I don't think that would deem me a very good blogger. :)
Have a great week everyone!
God bless.